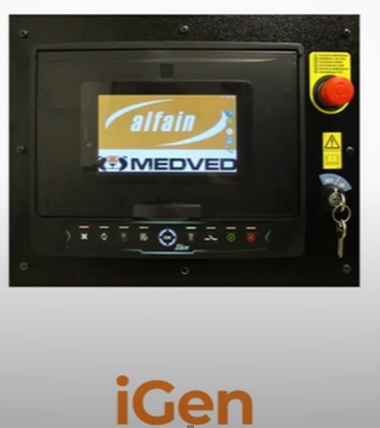 Automatic iGen
Our latest automation that enables automatic switching in the event of a power failure.
The automatic display, including error messages and other descriptions, are translated into Czech. Other languages are English, German, Italian and Spanish. It can be used throughout Europe. Automatic switching in the event of a power failure is a matter of course. The advantage is the possibility of connecting to a WiFi network or creating WiFi Direct in the case of a phone card. The automation is built on the Android system, which can be used to monitor the surroundings of the automation with the possibility of sending messages and images. The automation is ready in the case of using motors with a data output for displaying these values in the automation.
Our latest automatic includes all the features that the AT 207 automatic had plus many other improvements.
Large 7″ readable color display
Descriptions in the Czech language
Remote automatic start from the phone
Sending messages about the status of automation (start, shutdown, supply of electricity, information about the current status, etc.)
Advantage of prophylactic states and their settings for each day of the week
Prohibition of starting at specific hours
Setting a delay in the event of a power failure
Setting a delay when re-establishing supplies before switching off the power generator
Sending messages about fuel status (only when fitted with a tank with electronic fuel monitoring)
Error messages in the Czech language
The possibility of starting on demand (solar panels, pressure vessels, pumps monitoring the water level, etc.)
1 to 3 phase load monitoring
Rechargeable module
Monitoring the surroundings using the built-in camera
The possibility of connecting to a WiFi network
Remote management and the ability to remotely set up and resolve requests
Setting up and using the automation is on the video at 1:49